I haven't blogged here since mid-August, wow! Time flies by so fast which shows how much time I didn't have for my needleworks. For my project, I finished most of the sample collection part which is huge btw. So what's left is me actually analyzing them, writing up the results, and finally defending my thesis. And they'll all be happening next year (before the summer is over I hope!)
I can't complain about life right now as I'm blessed with a good project, a place to call home, some really good friends, and a supportive group of people who really encourage me on my pursuit of happiness. My crochet villagers included :)
From my last secret pal, I received 2 skeins of very pretty red cotton yarn just enough to make a shrug/bolero. Normally I would steer clear from reds as I don't look good in them: I really look washed out (boo!) But Christi gave me such a nice red yarn that I had to make something out of it. When I finished the cotton yarn she gifted me, the shrug was not long enough to be a shrug so I used a different type of cotton yarn from Juli (craftymama) to do the edging. They are two shades of red but work out fine together at the end.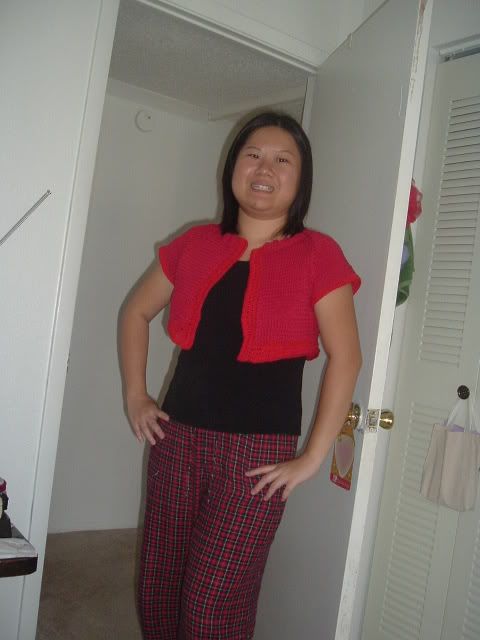 The shrug/bolero was knitted using top-down raglan method, which has become my most favorite knitting method ever! The edges were then crocheted alternating between front and back post hdc to get some sort of seed stitch feeling (which doesn't happen btw) Pardon my pajama pants, I was just goofing around before taking the picture. The cotton yarn give such wonderful stitch definition that I don't even bother blocking it yet.
Currently I have 2 other projects on my needles and 1 on my hook:
1. Top-down raglan short sleeves sweater: started at the end of summer by casted on the stitches but didn't get around to knit until recently. It's a few inches long. Any yarn that's smaller than sport weight is not worth to knit up as a garment because
it takes forever!
2. Top-down raglan cardigan (can't you see top-down raglan is my fav?) I bough the yarn (Patons Shetland Chunky) because it was such a sweet deal: $1/skein. I then proceeded in knitting a different pattern only to find out I looked like a Beluga whale stuck on a fish net. Feeling so unhappy, I decided to knit a cable sweater à la Victoria's Secret. But instead looking sexy, I looked like Snow Beast. So I convinced myself to use the frog stitch to convert Snow Beast into something more wearable and flattering to my figure.
Snow Beast actually is not that bad of a design but the reasons it doesn't work are: (a) I'm no VS model and (b) chunky yarn just simply looks chunkier when knitting into cables.
3. Crochet waist coat: it...takes...forever...to...finish because I'm lazy!
I bought KnitSimple's Holiday Issue and it's choke full of good stuff! So far I determine to make 2 projects out of that issue already. KS is (primarily) a knitting magazine but also has some crochet patterns in it- the best of both world, I guess. My favorite way to finish a project is to do crochet edges. I'm not good at finishing up projects and making them look like a million bucks. Plus I just don't like sewing up seams. So crocheting/knitting on the round with crochet edging is the best option for me right now. That way when I'm done, I'm really done :)
This is the first time ever that I filled up my tiny yarn bin. I don't have a big stash since I don't really have that much money to begin with. And I only shop at JoAnn's so my choice of yarn has been really limiting. But yesterday I managed to put all the yarn I purchased recently and my little yarn bin filled up to the top! I felt like a rich woman!
Actually I got some good deals for yarn online and purchased a bunch of them for about $20! They are all cotton yarn which I really love at this moment. Without touching the stash, I have enough yarn for the next 3 projects after finishing the two that I'm working on. I feel so rich!
I don't know when I'm going to post again so let's hope everyone a good and productive day/week/month. My thanks go to Christi (CDBear) and Juli (craftymama) for their gifts to make the shrug/bolero. Until I have another FO, take care!