I always fantasize of making a nice short skirt when I bumped into Josie's pencil skirt in crochetme. It took me more than a year to finally make a skirt out of the pattern. The event came when I had some leftover yarn from the bag swap and some from the shrug I made. And luckily I had enough yarn to whip up this baby.
The pencil skirt is around 13 inches which is short for me. Also as I don't have big hips, it looked very straight and boxy. Therefore I added some ruffles that I learned from the Patricia Pepe skirt CAL (thanks Svetlana!). Now I have my own skirt, very warm and cozy.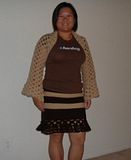 I pair it with the shrug I made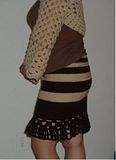 Back side, I'm "baby ain't got back"
Front side

Posted originally on September 6th, 2006 in
Crochetville
.