I have to say I'm addicted to crochet. Everytime I have that I don't invest on my research, I find myself with a hook in my right hand and some yarn in my left hand. Sometimes I'm wondering why I am so enthusiastic in my hobby, not my career?
As I already told you guys, I am now a villager of the ubercool Crochetville which entitles me to swap meets and random act of kindness. Swap meets are events where two (or more) villagers (those who have more than 40 posts) can exchange their crochet products and some extra goodies. And random act of kindness is like having a fairy godmother granting you everything in your wishlist. How cool is that?!
Anyhoo, I became a villager just in time to join the Fall Purse/Tote Swap and had tons of fun. My partner AJ in Wisconsin wanted to have a tote bag so I made her one in chocolate. I used my inspiration from a Chanel bag but it didn't turn out much Chanel as of ChaDao
The fun part of the swap was when I tore my head out trying to figure out what she would like. It's like mind-reading I'm telling ya. The wonderful thing about AJ is she's very good in communicating via email so I didn't loose all my hair (see my last post for evidence hehe)
Some pics from Dao's camp: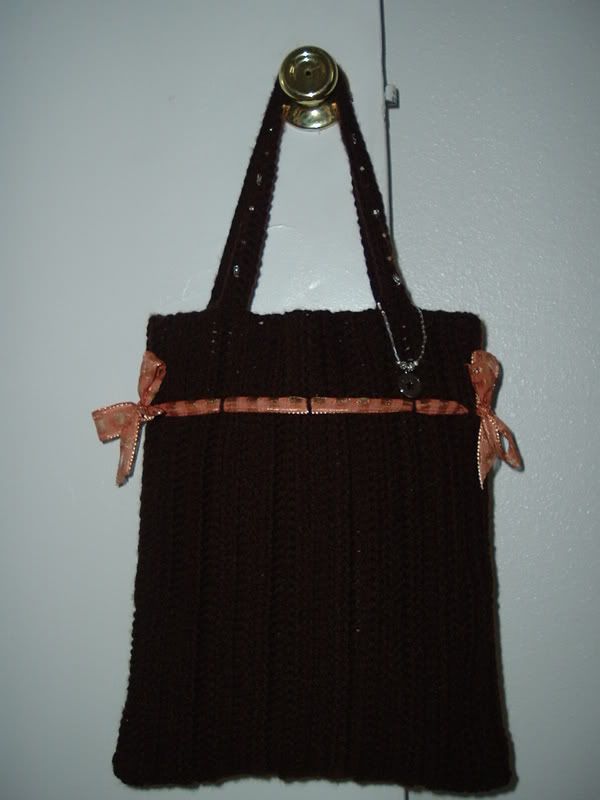 The lovely tote by itself. It has those very nice orage bows on the side, a charm saying "Make a Wish", and beaded handles. The yarn is the same with those I used on my Choxie bag. Since it behaved very well on my Choxie, I decided to give it another go on this tote.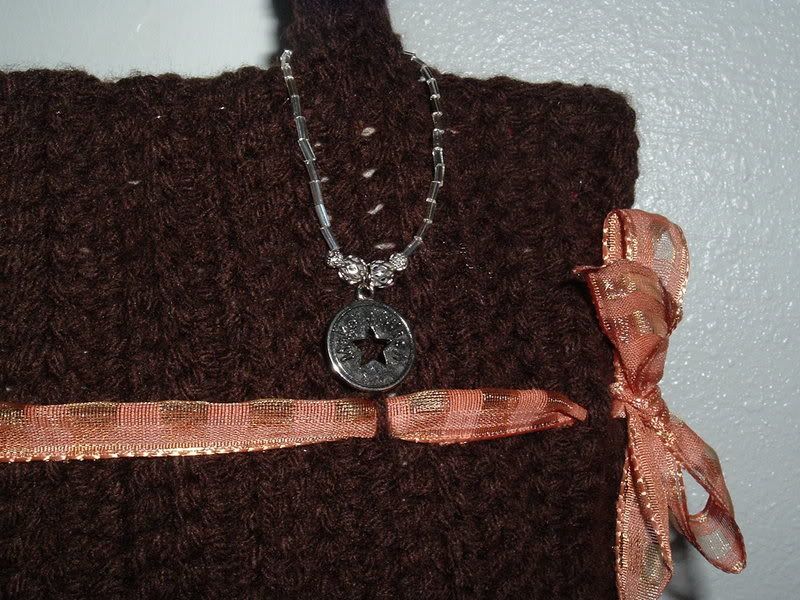 My camera couldn't get the words engraved in the charm. It said "Make a Wish"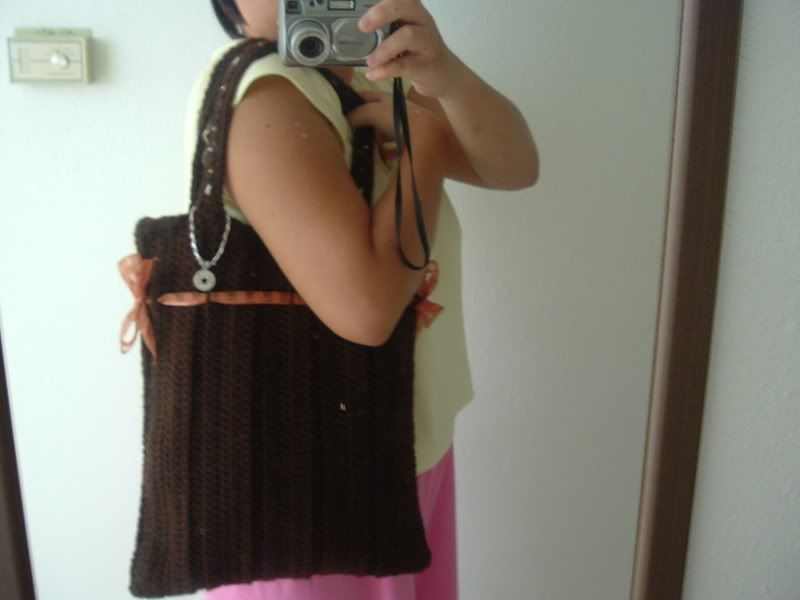 Me in my pj holding the bag. Just for the purpose of scaling
I stole this pic straight from AJ's blog since I didn't have a pic of the tote and the goodies. The goodies include (bottom up, left to right): Nestle hot chocolate, Celestial Seasonings "Honey Lemon Gingsen Green Tea", Martha White strawberry cheesecake muffin mix, a magazine, pumpkin spice candle, beaded necklace, stencil, magnetic fridge note, and a pair of earrings.
I purposely chose the necklace and earrings to match the tote (as my nephew Phillip always said "Women are all about matching!"). I found those two in a tiny boutique in a very unexpected place: near an elementary school! I bet they are handmade (but not from mine).
Here are what AJ gave me. She's very kind to send me such a big box full of fun stuff. I didn't expect so many things in one box!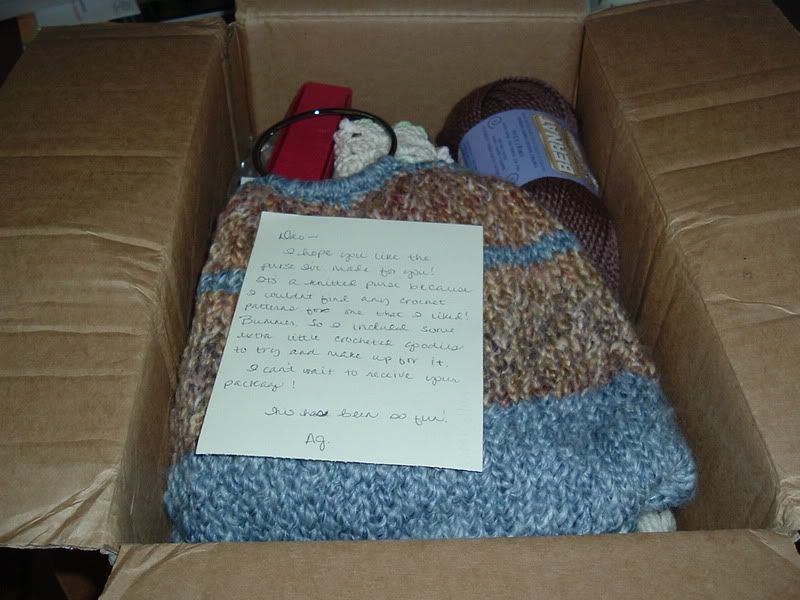 Everything in the box. She wrapped them very carefully, not like me stuffing everything in that USPS box.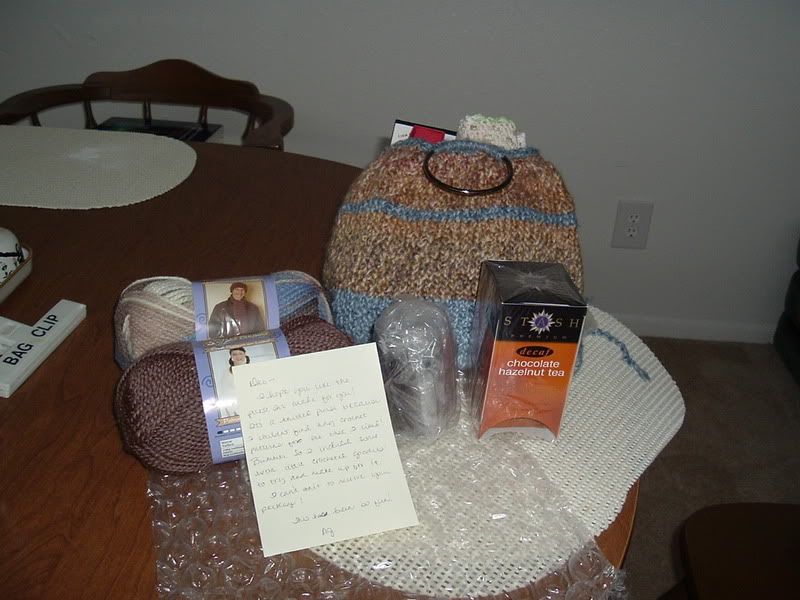 Everything came out of the box. She gave me 2 skeins of yarn from Bernat Softee Chunky. How did she know they're my favorites? Another great mind-reader I guess!
The lovely bag by itself. She couldn't find a crochet pattern to her liking so she knitted me that one. AJ can both knit and crochet! How talented!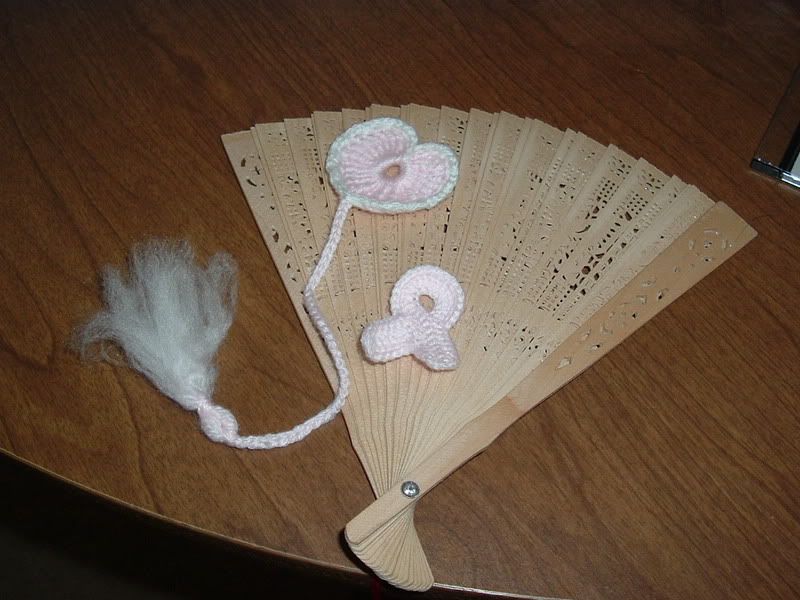 She gave me a fan, a crocheted breast cancer pin, and a bookmark (the heart thingie). I especially like the fan since it's supposed to bring good luck (Chinese feng sui or whatever it is). The nice thing about it is my grandma had one, mom has one, and now I have one
Someone probably inherited grandma's sandalwood fan already. I'm sure mom still keeps her somewhere in her closet. And now I have mine.
Probably 10 years from today I can tell my kids not to play with mommy's fan because it's precious hehehe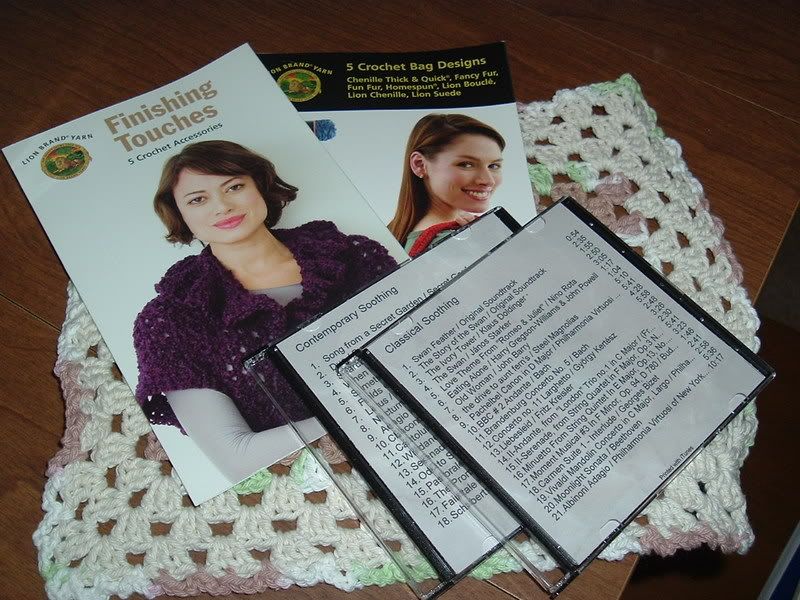 This lady is very nice: she burned 2 CDs full of soothing music for me, gave me 2 crochet pattern booklets, and made me a placemat.
And besides, she gave me candles, bath gel, chocolate and hazelnut tea, and a perfumed sachet. My roomate and I are sharing the candles, placemat, and tea. The rest are mine, mine, mine!
I didn't know swapping can be so much fun when I entered the fall purse/tote swap. However, I came out having fun making and receiving stuff, and know one person in the forum.
To conclude, I consider myself lucky!
Originally posted on
September 15th, 2006