What would you do when the sky is gray?
What would you do when everybody around you are wearing dark color clothings for winter?
What would you do to jazz up that black dress you have and keep yourself warm at the same time?
You make a wrap with the color of the sky on a sunny day. You wear it with your beautiful black dress when you go out at night to keep yourself warm and beautiful. And people around you will turn their heads and say "Oh, isn't that a beautiful thing?"
Ladies and gents, may I introduce you my first original design...
*Drum Roll*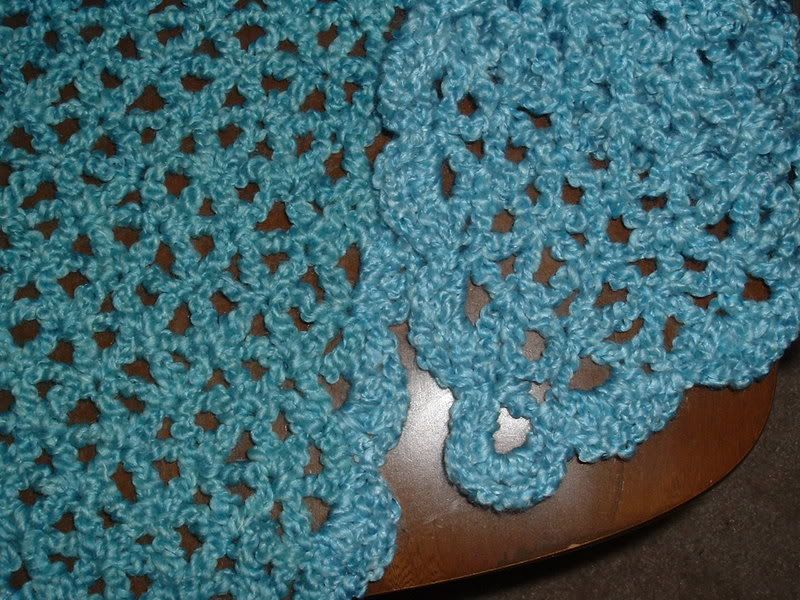 I use V-stitch to make the body of this wrap and shell clusters for edging. The wrap is fast to work and the color is so gorgeous. I used 2 skeins of LB homespun in "Blue Sky".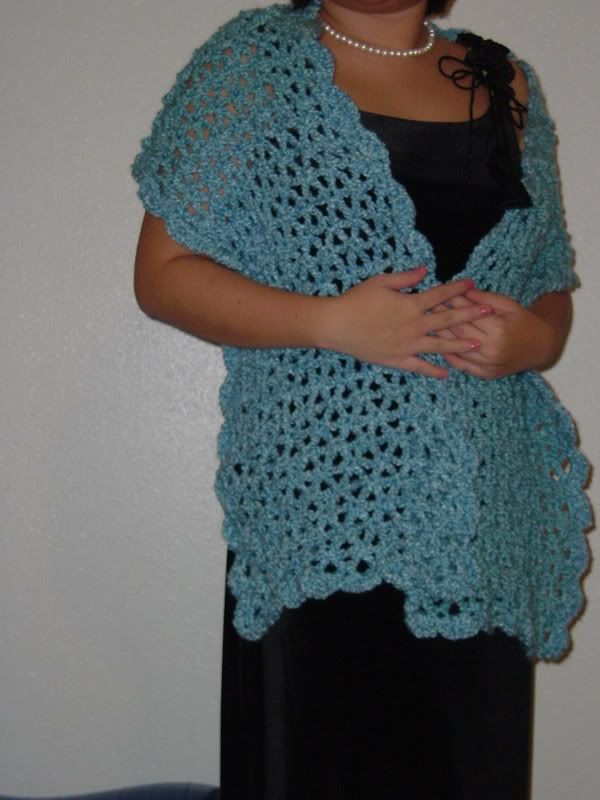 To dress up that black dress :D
With some extra yarn I made myself a head hugger.
Update: The Pattern
Materials:
2 skeins of Lion Brand Homespun in "Blue Sky"
J-10 mm hook
tapestry needle to weave in

Notes:
Gauge is not necessary, you can use a bigger hook such as K-10.5mm if you like.

You can make a wider wrap or a smaller scarf, just need to do some calculations:
for mine, 9 v-stitches across + edging = 13 inches wide

Formula for the foundation chain: (number of v-stitches x 5) + 6 ch

Instruction:

Foundation chain: 51 ch (9x5 +6)
Row 1: trc from 6th ch of foundation ch (1st v-st made), sk 5, *[ch, trc, ch3, trc] (v-st made), sk 5 ch* repeat ** 7 more times, trc on last ch. Turn
Row 2: ch6, trc on the trc from last row, v-st on top of the 2 trc that are next to each other on the previous row (not on top of the ch3 between v-st) 8 times.
Repeat row 2 until desired length. Do not cut yarn after finishing the v-st body

Edging:
With right side facing you, start edging around following this pattern:
* in ch3 spaces [(trc, ch1) 3 times, trc] (1 shell made), sk the next trc, sc on the sp between 2 rows* all around.
When you're finished edging, cut off the yarn, weave in 2 (only 2!) ends.