Fiona,
First of all, I need to learn a lot from Fiona: how much can you stuff into a flat rate box? I always thought to myself that I did such a good job stuffing the flat rate box last time but compared to what Fiona did to me =>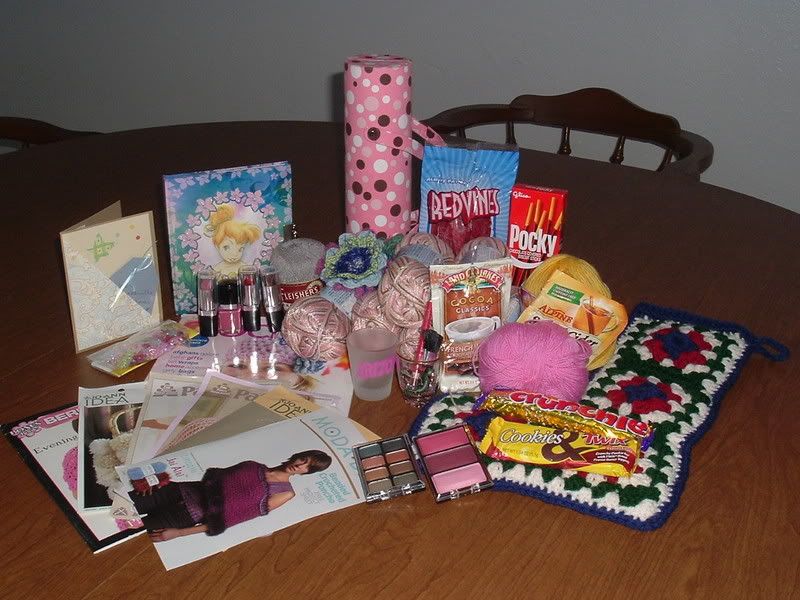 Let me describe to you what Fiona sent me:
6 skeins of Bernat crochet yarn in Neapolitan shades.
1 skein of yellow yarn from China (wool yarn I suspect)
1 skein of pink yarn also from China
1 skein of Fleisher yarn (71% wool, 29% rayon)
Bernat pattern booklet
Some very nice leaflets
Crochet today! magazine first issue
A stocking from granny squares. She's so creative!
A flower pin that's so pretty
3 lipsticks, 1 lipliner, 1 eyeshadow panel, 1 blush panel, 1 nail polish => make me feel like a princess
a hook carrying case from JoAnn's (I'll preserve it for knitting needles if I decide to knit)
a Tinkerbell diary
a Pocky chocolate stick thingy (she probably bought in China or Hong Kong, I used to eat those when I was a kid
), a bag of licorice, a bar of crunchies, and a bar of cookie and twix (will force my roommate to "help" me finishing them
)
2 shot glasses: one from Arizona, one from Japan (very cute ones indeed!)
one cocoa classic mix, one cider mix
and last but not least, one bag of flower embellishment.
She also included a handmade card with such cute notes! Fiona, you're such a crafty and clever person. I need to learn how you can stuff a flat rate box like that
And thank you so so much for everything you sent me on this replacement box. I hope the first box will go back to you soon, otherwise you need to fill that PS 1510 form at your post office to get it back.
I hope I didn't miss anything. Thank you Fiona for spoiling me rotten
I wish you and your family a wonderful holiday season and let's keep in touch
Originally posted on 12/19/06 in
Crochetville