Look ma!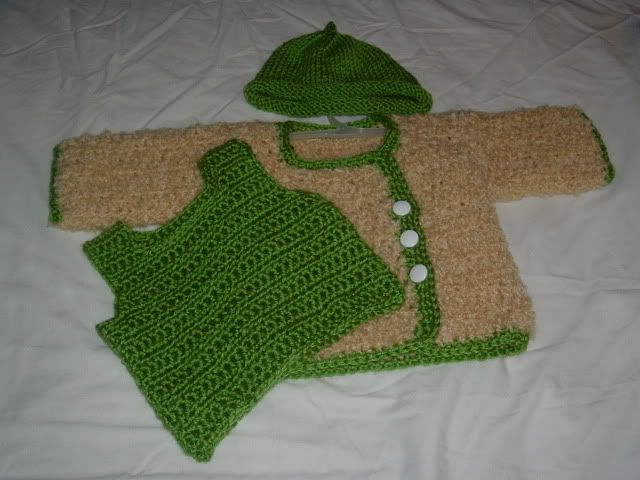 Baby, it's cold outside!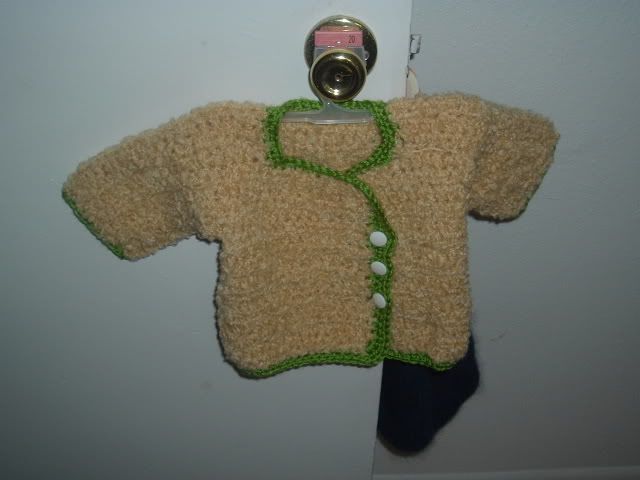 First off, let me tell you how much I don't like crocheting/knitting baby garments. Maybe it's because I don't have children myself. And maybe making clothes for little ones is just so darn tedious. So I didn't make anything for babies until recently when one of my friends had a baby shower.
My friend decided to follow Halle Berry by not wanting to know the gender of her baby. Which pretty much left me no choice but knitting and crocheting garments in yellow and green. While I kind of enjoy the yellow, green is not such a favorite color in my book. However, the green yarn from RH Soft Yarn is so smooth and shiny that I absolutely adore knitting/crocheting with it.
Materials:
Hat: Umbilical Hat from SnB knitting book.
yarn used: RH Soft Yarn in avocado (100% acrylic, easy to wash)
5mm dpns from Clover.
Gillet: my own pattern, swing as I go
BICO: pattern from crochetme
yarn: Illusions by Bernat in sunlight (also 100% acrylic). This yarn feels like boucle and is a bit tricky to work but the end result is just so fabulous. Also the gauge is a bit bigger than Homespun I guess (but babies always grow up, right?)
trim: RH Soft yarn.

6.5mm hook
The hat and gillet were done way before I crocheted this BICO, which took me about 3hrs. I think I crocheted during my usual Thursday "Ugly Betty", "Grey's Anatomy", and "CSI" lineup. So it's the fastest project I've ever worked and I enjoy it.
Also, I got a good deal from my neighbor Big Lots: 3 skeins of Patons Lacette, 2 skeins of Patons Be Mine (which is as soft as chenille), and a skein of Bernat Lu Lu. All for $1 each! What a deal! I am planning to make more BICOs as now I'm hooked!