During my exam season, I decided to organize my room and realized a BIG part of the room is taken over by yarn and other yarn-related items. No wonder why my closet is so crowded. I opened my yarn stash and realized I wouldn't need to shop for yarn for a while.I have enough to last me through some couple of rainy days and it rarely rains in TLH! On top of that I have so many WIPs to finish. Let's see:
1. The top I'm making with the yellow yarn;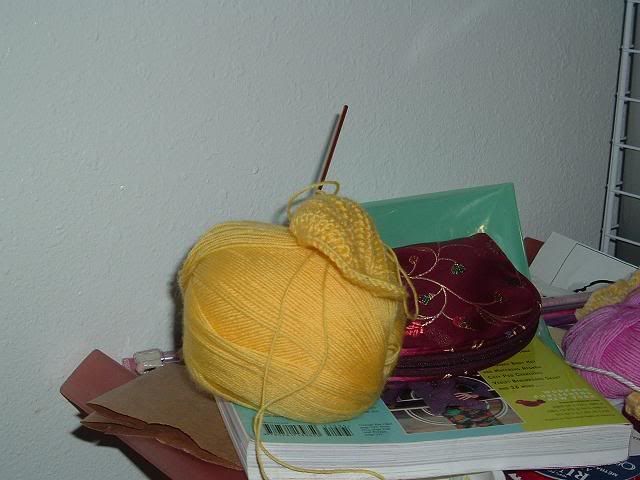 Remember me?


2. A crocheted jacket with Stellina yarn;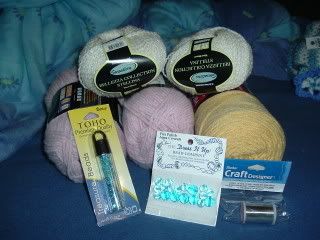 (Stellina is the white yarn at the top)

3. A baby top for one of my friends who's expecting a little one;
4. The blanket for my little brother. It's
the
blanket to me as I don't seem to make any further progress.
Besides, I still have some yarn that I ripped out a while ago during my attempt of making a jacket and another jacket. And they are a lot of yarn. Nevertheless, I found the pattern for both types of yarn and after wiping off all my WIPs, I will proceed on with those two. That means I will have three cute jackets this year. Yay!
Yet somehow I still want to go and get more yarn. Whenever knitpicks send their catalogues, I just wanted to order x-skeins of this, y-skeins of that. And then Elann also has good quality yarn with nice prices too. So much temptation!
The use of old items on new purposes is endless. I had this old stationary holder for years yet never used it. One day I pulled it out, dusted and put my straight needles there. Now the needles won't lay around my room for pick-up sticks anymore.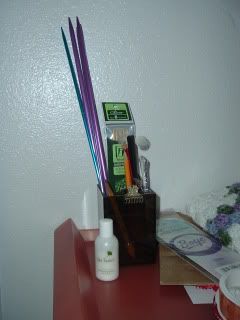 Also, a weird-looking test tube in lab is the home for my tapestry needles. It's neat that way, see? I got some test tubes with caps like that one but a bit bigger. They are used to store beads. I like!
Oh, last but not least, I got all my crochet hooks from size B to size K, thanks to the sale at JoAnn's. Now I have one plastic (size K), two Boyle's (size B and E), and many Susan Bates. I still can't believe I got them all finally.
One picture of the cutie pie wearing the Umbilical Hat from SnB made by RH Soft yarn