Just one quick line to the Spring Blooming Purse/Tote Swap: it's nice, it's exciting but somehow I didn't feel as excited as I did in the Fall Purse/Tote Swap I attended last year for many reasons. First of all, my life is different now. I'm no longer do research to procrastinate myself from crocheting. Now it's the other way around: I would be extremely happy just to have one day to crochet, to take my mind off numbers, statistics, data, values, discussions,... With all those said, I don't really have lots of time to make anything nice or enjoy making it anymore. Hence my bag was born in haste. Quality vs. quantity, the age old discussion, again is reigning over me. Number 2, many unfortunate events happened to me during the course of the swap. Therefore I was not a happy camper either. Number 3, I wanted to participate in the swap very badly, but it ended in bad time when I was so loaded with exams that I didn't feel anything at all.
With all said and done, I was happy with the bag I did for Juli nevertheless. That was the bag that I would like to receive myself and I am proud of it. I used Wool of the Andes Bulky in "mauve" from Knit Picks and Joann's Sensation Bellisimo. I particularly like Bellisimo as it has an interesting texture and the colors reminded me of cherry blossoms in DC.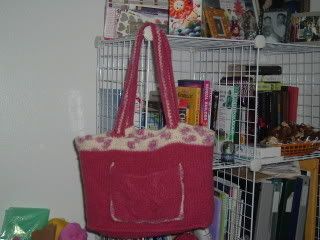 The bag I made for Juli: mauve Knit Pick's Wool of the Andes Bulky and Joann's Bellisimo. This is my first knit/crochet bag ever. The mauve part was knitted while the "cherry blossom" part was crocheted. Then I felted the bag and it came out smaller than I expected. Plus the cables I worked so hard on the front was mostly gone :(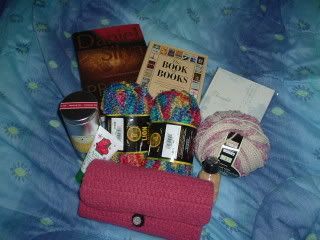 The goodies (clockwise from left to right): Arnica hand lotion from Yves Rocher, Rooboise tea from Archer Farm, (back) Prince of Fire by Daniel Silva, The Book of Books, and a notebook, (middle) 2 skeins of LB Boucle yarn, Bellisimo yarn, (front) felted crochet hook holder, and bath salt in Orange Verbena.
Juli sent me a booga bag she made from Brown Sheep yarn (must be a lot of yarn as the bag is very sturdy). She also sent a variety of tea, one small bag of coffee, 5 hand made stitch markers, one ball of cotton yarn, and the pattern for Booga bag.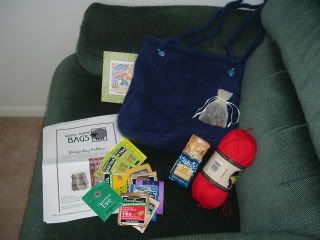 Thanks Juli for your kindness. You've been a wonderful partner! I just wished I was not so busy to enjoy the whole experience.